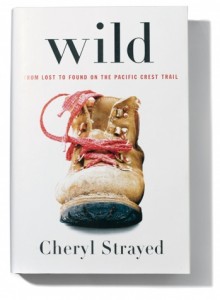 Welcome to the first book discussion of the Beyond Busy Global Monthly Book Club.
Today, April 1st, we begin our global discussion of Wild, From Lost To Found on the Pacific Crest Trail by Cheryl Strayed (Knopf March 2012).
No fooling!
In the true "beyond busy" spirit, I finished the book at about 8:30 pm on the last day of March, just in time to begin this discussion on April 1st.
If you have not finished the book yet yourself, you might want to steer clear of these posts until you have finished reading, as they may contain spoilers.
All book discussion posts are clearly marked with the abbreviation, "BBGMBC," to set them apart from other posts.
BBGMBC=Beyond Busy Global Monthly Book Club (Can also be used as a tag on Twitter: #BBGMBC)
I will be asking one discussion question per day in this blog for seven days each month. Anyone can join the club (sign up in our Facebook group: https://www.facebook.com/groups/257596150995443/).
In the Facebook group we can easily introduce ourselves and share our enthusiasm for the books without spoilers. But here in this blog, we can share, in more detail, what we think about the book and want to express to others about our experience as readers.
If you are new to the book club, just jump in and start reading and join us as soon as you finish the book. I respectfully ask only those who have finished the book to participate in the discussion.
And don't worry, if you need more time, you can always finish up the book at your own pace and then jump in and answer these questions at any time.
For those of us who wish to participate in real time (the 1st – the 7th of the month), having a deadline is good motivation to finish selected books by the first of each month.
Before I ask our first discussion question, I just want to say that there is no right/wrong way to answer these questions. You can answer off the cuff with plenty of typos in your response because the baby needs to be fed and this is all the time you have. Or you can carefully mull over your response and run it through spell check in Microsoft Word first before you carefully edit and post your thoughts. You do not need to have a PhD to be in this book club. Nobody is going to judge you. How could they after reading such a book as Wild?
As the club creator and host, all I ask is three things:
No self-promotion, no judging/condemning the author, other group members or me, and please keep responses rated PG.
Our primary purpose is to enjoy sharing our thoughts and opinions about the book and to try and make sure that everyone has a good time discussing the book. So without further ado, let the book club discussion begin!
Our first question to the book club members is a simple, personal one:
What was your favorite passage or scene in the book and why?
Please describe the passage or scene in your own words.
Why did you pick this particular moment in the book?
What made this scene meaningful to you?
If not a particular scene, per se, feel free to mention an aspect of the book or of your experience reading the book that was personally meaningful or enriching to you and tell us why.
Thanks for sharing. Please limit discussion question responses in the comments here to 300 words or less.
If you find yourself wanting to say more, consider answering the question in a Word document and then cutting down your response before you paste it in the comments.
You are also welcome to respond to book club discussion questions in your own blog and link your posts back to question posts.
Obviously there is no word-count if you post in your own blog, but keep in mind that members of the club are already "beyond busy." We can do each other a favor by keeping our comments thoughtful and concise.
Have fun sharing what you loved most about our first discussion book, Cheryl Strayed's wonderful memoir, Wild, From Lost to Found on the Pacific Crest Trail!
We are making up the guidelines as we go along, and naturally, they will evolve as the club evolves. Thanks for being patient with the process. 🙂
Every so often I will ask for member feedback. I hope you enjoy the discussion!
Like this post? Subscribe to my Feed!