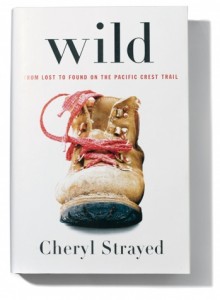 In the memoir, Wild, by Cheryl Strayed on page 241, the narrator talks about a necklace given as a gift by a friend.
I looked at the padded envelope. It was from my friend Laura in Minneapolis. I opened the envelope and pulled its contents out: a letter folded around a necklace she'd made for me in honor of my new name. STRAYED it said in blocky silver letters on a ball-link chain. At first glance, it looked like it said STARVED because the Y was slightly different than all of the other letters—fatter and squatter and cast from a different mold, and my mind scrambled the letters into a familiar word.
Earlier in the book we learned that the narrator chose a new name for herself after she got divorced. She picked a name that was meaningful to her. She told us on page 97:
I had diverged, digressed, wandered, and become wild. I didn't embrace the word as my new name because it defined negative aspects of my circumstances or life, but because even in my darkest days—those very days in which I was naming myself—I saw the power of the darkness. Saw that, in fact, I had strayed and that I was a stray and from the wild places my straying had brought me, I know things I couldn't have known before.
In what ways was the dramatic object of the necklace symbolic in the narration?
What's the difference between straying and starving?
And in how many different ways did the narrator experience both?
And what do either straying or starving have to do with the void, which comes up on page 127 when the narrator encounters a woman in the restroom in Reno who comments on the feather Cheryl has attached to her pack.
"It's got to be a corvid," she said, reaching over to touch it delicately with one finger. "It's either a raven or a crow, a symbol of the void," she added in a mystical tone.
"The void?" I asked, crestfallen.
"It's a good thing," she said. "It's the place where things are born, where they begin. Think about how a black hole absorbs energy and then releases it as something new and alive."
Straying. Settled. Starving. Sated. Empty. Full. How are these ideas all explored in the story?
Like this post? Subscribe to my Feed!