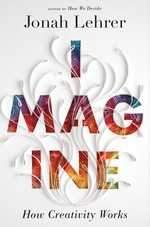 This is our last discussion question for Are You My Mother? by Alison Bechdel.
Our next book is Imagine: How Creativity Works by Johah Lehrer.
You can read about the selection of the book for the club here.
You can order the selection here.
Please finish reading or listening to the the book by June 30th.
Our week-long discussion begins on July 1st right here. Happy reading!
• • •
Join the discussion any time!
Today, June 10th , we continue the discussion questions for the Beyond Busy Global Monthly Book Club. We just finished reading Alison Bechdel's
Are You My Mother? A Comic Drama
and now we will spend seven days discussing the book.
Anyone who has read the book can participate by commenting. You can also
join our public BBGMBC Facebook group
, if you would like to join us in reading one excellent quality book per month and then discussing it here.
Are You My Mother? A Comic Drama is written and illustrated by Alison Bechdel and published by Houghton Mifflin Harcourt in 2012.
• • •
This quote is from an interview from The Rumpus:
Rumpus: Has your mom read the new book yet?

Bechdel: Yeah, she's read it. I mean, I showed it to her as I was working on it. I felt like I had to do that so she wouldn't totally freak out, you know? I didn't feel like I could write about her without her seeing it. You can't just show someone a finished published book about them, it's really not fair.
Even though the author let her mother read the book as she wrote it, she seems to have felt a greater sense of freedom and comfort using her father as the subject matter for a book than she did with her mother and her second graphic memoir.
Where do you stand on these matters? Do you feel that it's easier and more advantageous for a memoirist to write about other people after they have passed away? Or is that unfair to the subject, since he or she does not get to have a voice?
When writing about a living person, what kind of permissions, if any, does a memoirist need to procure?
Could you feel ethical writing about someone no longer living?
Could you feel ethical writing about someone still living, with or without permission?
What are the rights of the memoirist and what are the rights of the people being written about?
How do you feel about these matters?
Like this post? Subscribe to my Feed!