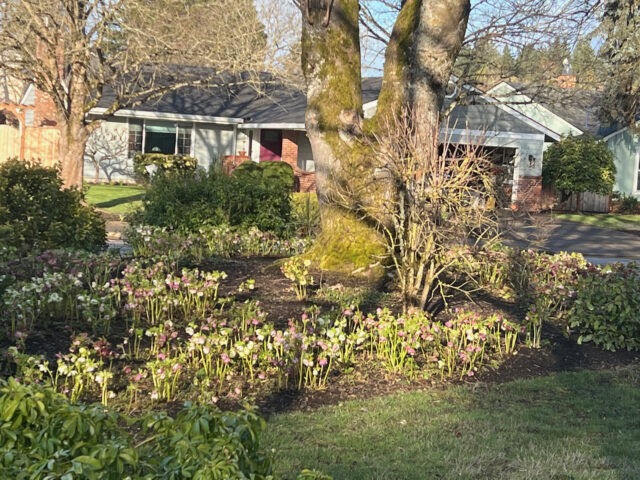 If you were like me when you were a kid, you probably spent a lot of time outside playing, getting dirty and flinging your body through time and space. Remember how it felt? It was awesome. I loved it. I still love it. But for too many today, it's all too easy to feel disconnected from the earth we're living on.
And it's not like I'm moving at the same pace at 56 as I was when I was a kid. In October, I started walking several days a week to help recover that feeling of moving through time and space outdoors. This wasn't exactly a choice. I re-injured myself last summer causing pain from many years ago to flare back up. It's a leg/hip/lower back type of injury so it's pretty debilitating. I kind of need those three parts of my body to do just about anything. My awesome medical masseuse, Ranee, asked me to walk to help speed along the healing process and I wasn't really convinced that it was important. Walking sounded boring. Walking was for old people. How could walking even help? After several massages, the discomfort wasn't easing up as much as I had hoped, so I reluctantly took Ranee's advice and started walking.
Lo and behold, the improvement was immediate. Ranee is no dummy. She knows how the body works and she knows how walking can help people heal. My pain went from nagging to negligible and after a few more sessions it disappeared altogether. That's how I got hooked on walking.
Moving my body reminds me I have a body, that my body works better when I keep it fit and that bodies thrive when you take care of them. I take care of my body and my body takes care of me — what a concept. I walked away the winter in a nearby retirement community, crossing paths with seniors who are also out walking in whatever patches of decent weather we could find. I finally got the full message: if you want to be walking when you are a senior, start walking in middle age and keep walking until walking is no longer an option.
As a flower gardener, I spend a lot of time outside in nature and it fills me up inside. I enjoy my own company. I always have and I feel especially content when I'm out in nature. I love the feeling of the sun on my skin, my hands in the soil and my knees slightly sunk into the soft ground. I love seeing the cacophony of colors that sway on stalks all around me when the garden is at her resplendent best. Incredible smells are new in every direction I turn. My garden is always abuzz with the sounds of bees, insects, and birds. However, the ground where I work is uneven, riddled with critter holes and tricky to traipse unless you like tripping and falling.
Apparently I like tripping and falling because I do it a lot. It's not a big deal for me to tumble right now because I'm middle aged and I am still pretty good at either catching myself in mid-fall or finding a soft spot to land. In cases where I manage to do neither, I am still spry enough to watch the sky for a minute, catch my breath, roll over, get back up and carry on. But this kind of resilience will not last forever. What I learned last summer is, if you fall enough times, you may be able to get up and carry on in the moment, but you will pretty quickly be in enough pain to call your trusty medical masseuse and beg her to fit you into her busy schedule.
So how can something as simple as walking be such a revelation? Maybe it's because walking isn't just medicine for the body; it's also medicine for the mind and soul. It pulls the scattered parts of me back together. It helps me breathe more deeply. It helps me rediscover my natural rhythm. Walking calms me. Walking energized me. Walking creates alignment. And the best part is the immediate positive effects also translate into lasting benefits, as well.
Maybe it's okay to walk daily for the instant fix it provides. Life on earth is weird right now. Heck, life on earth is hard for most people these days for one reason or a hundred. And if it's not hard on the daily, it's challenging in fits and starts. I find my life is easier, smoother and cheerier when I walk regularly. I try to walk five days a week and sometimes I even hit that goal. And when I don't, it's no biggie, I just begin again the next week.
As a kid, I would throw myself off the edge of the pool and into the water. Toss myself over a make-shift high jump and land in a bean bag chair. I relished the feeling of flying through the air on a swing or a tree vine in the woods. In later years, I was an athlete. I played soccer, softball, and rugby. I swam and I dove competitively. That was then and this is now. I don't need to be who I used to be except for the part of me that loves being outdoors. Then I flew, I soared, I dove, I tackled. Now I walk. I simply walk. I'm grateful that it feels like enough each and every time.
Like this post? Subscribe to my Feed!