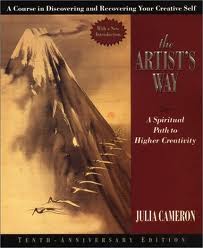 It's so hard to be creative if you don't genuinely like yourself.
The culprits that can undermine your serenity are shame, negative thinking, and self-sabotage.
These negative habits are often linked to the past in one way or another.
It doesn't matter if the negativity was being directed at you and you took it on, or if the negativity took the form of lies you told to yourself about yourself: self-destructive beliefs have got to go, if you want to thrive creatively.
The good news is that there are many wonderful resources for creative recovery that can help you move forward.
One of the most well-known books on creative recovery is Julia Cameron's The Artist's Way.
If you struggle with self-loathing, paralyzing fear, relationship challenges, or addictive habits of any stripe, you will find comfort and inspiration in The Artist's Way.
In it, Cameron offers simple wisdom and tools to help you begin actualizing your creative potential.
The book and the author have been guiding lights for me. I can thank Julia Cameron for bringing my husband and I together and for continuing to provide practical, powerful examples and advice on living the creative life.
I have seen Cameron speak. I have attended her workshop one weekend. I even interviewed her once.
But by far her greatest gift to me is the words in The Artist's Way and the common sense wisdom that permeates all of her books.
What books have been instrumental to your creative self-expression?
Like this post? Subscribe to my Feed!