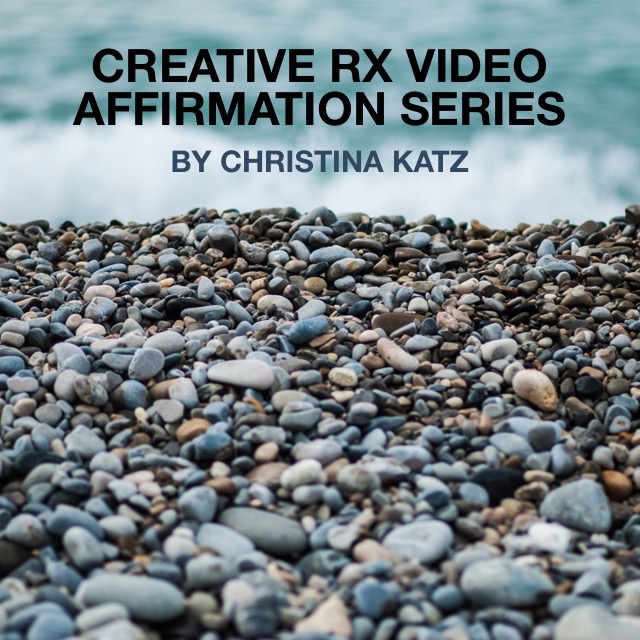 Get ready to notice what happens to your creativity, once you spring clean your thoughts.
I am very excited to announce that my affirmation series, Creative Rx is back, and now it's better than ever.
Once upon a time, I hosted Creative Rx as one audio affirmation series folks could listen to daily to suss out any negative thinking potentially blocking their creative growth.
Today, Creative Rx is a series of three short videos meant to be watched daily in quick succession. The purpose is to identify and address any negative thinking that might be interfering with your creative growth and success.
The technique behind Creative Rx is simple. You give the affirmations less than ten minutes a day for 21 days, and they give you a creative spring cleaning of your beliefs that can eventually result in a more positive, productive attitude towards yourself, others, and your entire creative process.
What you believe about yourself matters. Negative beliefs about yourself can interfere with your creative growth and even stop you short of achieving your creative potential.
And people with negative thoughts or hard-to-identify fears are not rare. We are normal, in fact. I am sure most people have negative thoughts and fears they are not even aware of.
Suffice it to say that we all deserve to be 100% on our own team. Creative Rx will help you get out of your own way, relax, and create more effortlessly.
Check out what past participants have said, and they did not even use the deluxe version:
Christina's Creative Rx offers an effective counter-punch to that nagging inner voice of creative self-doubt.  ~ Susan
Creative Rx had helped me recover and maintain the balance I need. I'm a busy mom and professional who often forgets about herself until I run out of "juice" from being over-extended. I've found Creative RX to be a quick and simple check-in and reminder to take care of myself.   ~ Judy
Who says simple can't be effective? Christina's Creative Rx is both. After about a week of using the tool I found my mindset already shifting in a positive direction that fueled my writing. It was worth taking the five minutes out of my day to "recalibrate" and gear up to do the tasks at hand — and start new ones I'd never attempted before. ~ Lara
I love to start my day listening to Creative Rx. The voice of the instructor, combined with the positive messages puts me on the path to productivity and creativity for the entire day. It lightens my mood and lifts my spirits. I would highly recommend this tool for any person wishing to become more creative in their everyday life. ~  Lisa
Conscious self-awareness can help you re-capture your creative spirit and turn your doubt on its heels. Christina's Creative Rx helped me overcome the obstacles that my mind was manufacturing, holding me prisoner to my own self-perceived limitations. I am a more confident and creative writer, woman, mother and wife thanks to this tool. ~ Christa H.

Creative Rx cured my cold feet.  Now I'm ready to stop stalling and go for it!  ~ Laura
Users may find this hokey at the outset. I did. But give it a chance. With an open mind it could yield surprising results. It did for me.  ~ Lela
Thinking on these phrases helped me realize how far I have come in life, mentally, spiritually, emotionally, and guided me to places to still journey while making me deeply appreciative for the path already traveled.  ~ Christa S.
I believe that Creative Rx has the potential to really help people and not only with their creativity, but in all aspects of their lives!  ~ Courtney
Taking two minutes to remind myself of my good qualities was completely painless. And it's the quickest and healthiest way I've found to quiet my own self-criticism and tap into my best self. You are already good. This tool helps you own that.  ~ Heidi
Sign up for Creative Rx Video Affirmation Series today for only $15. You'll get unlimited access to the videos for good. You can even send the link to your phone and watch them or listen to them on the go. Whatever it takes to work 6-7 minutes of creative affirmations into every day!
Try Creative Rx for 21 days and you'll be amazed by how much you learn about yourself, your mind, and how your thoughts affect your daily creative output.
Once you pay for access, you will receive an e-mail confirmation directing you to the videos right here on ChristinaKatz.com.
Don't let another day go by where you feel like you are struggling instead of creating as much as you can.
Try 21 Moments, and spring clean your thoughts!
Did you know my website has a shopping cart?
If you put something into your cart in error, no worries. You can take your time, look around, and select books, workbooks, writing and platform challenges, classes, and dream teams until you are ready to check out. Then, to view or alter the contents of your shopping cart, click the button below. The shopping cart always opens in a new tab.

Like this post? Subscribe to my Feed!