Caroline Grant from Literary Mama (who was our guest the other day) introduced me to Lisa Harper. And I'm so glad she did! I'm always happy to meet another writer mama. Please help me welcome her!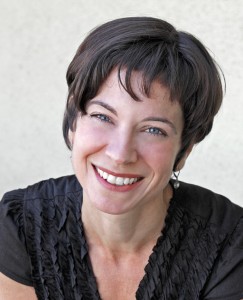 Lisa Catherine Harper is the author of A Double Life, Discovering Motherhood and a professor in the MFA program at the University of San Francisco. Her writing has appeared in books, online and in print, in places including San Francisco Chronicle, Poetry Foundation, Huffington Post, Babble, Glimmer Train, Literary Mama, Offsprung, Gastronomica, and Mama, PhD.  She holds a BA from Princeton University and an MA and PhD from University of California, Davis. She lives in the San Francisco Bay Area with her husband, and their two children. You can find her online at http://www.LisaCatherineHarper.com.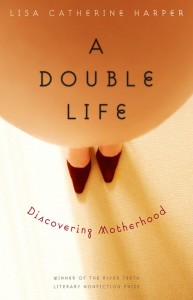 A Double Life, Discovering Motherhood is the winner of the 2010 River Teeth Literary Nonfiction Prize. Publishers Weekly has called the book, which merges personal narrative with research "universal, moving, and relevant." Following the intimate story of Harper's first pregnancy, from conception to her daughter's first word, A Double Life looks at how the biological facts of motherhood give rise to life-altering emotional and psychological changes. It shows us how motherhood transforms the female body, hijacks a woman's mind, and splits her life in two, creating an identity both brand new and as old as time. It charts the passage from individual to incubator, from pregnancy, labor, and nursing to language acquisition, from coupledom to the complex reality of family life. Harper's carefully researched story reminds us that motherhood's central joys are also its most essential transformations.
Questions:

1. How has writing (either just the act of writing or writing this book or both) impacted your self-confidence?
Writing  A Double Life cemented my confidence in my voice as well as my commitment to writing fact-based, lyrical narratives. I wrote fiction before I pursued my PhD, and A Double Life engages every aspect of my writing life: the rigor of research, the necessity of narrative, the experimental flight of lyric. It took me a long time to find a home for this book, but since publication I've been especially gratified that reviewers and readers have responded with great enthusiasm to the very aspects of the book that made some early editors nervous. Now I feel much more confident in my sensibility, my style, and my point of view. I have a greater sense of who I am as a writer and how I want to enter the conversation. Whatever my next long project, this sensibility will remain central to my writing. Knowing that has given me tremendous confidence and the momentum to keep going.
2. What are three words that describe your creative book-writing process?
Investigate. Narrate. Lyric.
3. What good has your book created in the world?
A Double Life is helping to change the conversation we have about motherhood–away from the sensational and voyeuristic and toward something more essential. It has also helped readers–including fathers and the childless–to understand in a profound and intimate way the radical transformations that women go through when they become mothers. It's not just nine months of pregnancy and then–boom–you have a baby. Motherhood is a profound, gradual, life-altering process that is at once a great joy and a great challenge.
My book tells this story to mothers (expectant, new, veteran) in a way that allows them to understand, share, welcome, and celebrate these changes.When they read, they recognize parts of their own story. The book helps them to feel less alone; it helps them to understand how the biological gives rise to the emotional and psychological; it helps explain the why and how; and it has absolutely helped their friends and partners understand what the big deal is in the first place. (I've even had email from childless, adult readers who have gifted the book to their mothers as a way of saying "thank you! Now I get it!")
• • •
Another question we've been asking our authors for you: how has writing impacted your self-confidence?
But you will have to say more than just the three words to get to 50-200 words.
Answer in the comments in 50-200 words (no less and no more to qualify to win one of today's books). Please read the complete rules at least once!
Thanks for participating in the Writer Mama Every-Day-In-May Book Giveaway! Please bring give the giveaway a shout-out on Twitter today.

Like this post? Subscribe to my Feed!