This is the very first book giveaway for The Writer's Workout. 🙂

Advanced warning to the winner: you will receive this signed book in December 2011. I should have copies by the launch party on December 6th. I'll send yours as soon as I get my giveaway copies in.
If you don't win and you can't stand the idea of not being among the first to get a signed copy, you can actually already pre-order The Writer's Workout, at a deeper than usual discount, if you like. I'll draw three winners from the first fifty who send me their receipts and those winners will receive a free one-hour phone consultation with a value of $150. (Forward your receipt to katz christina at comcast dot net to enter.)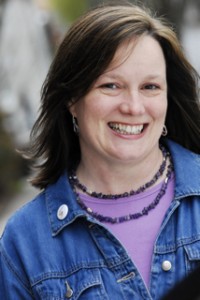 Christina Katz is the author of the forthcoming Writer's Digest book, The Writer's Workout, 366 Tips, Tasks & Techniques From Your Writing Career Coach (now available for pre-order!). She also wrote Get Known Before the Book Deal, Use Your Personal Strengths to Grow an Author Platform and Writer Mama, How to Raise a Writing Career Alongside Your Kids. A  "gentle taskmaster" over the past decade to hundreds of writers, Christina's students go from unpublished to published, build professional writing career skills, increase their creative confidence, and succeed over time. Christina hosts the Northwest Author Series in Wilsonville, Oregon, where she lives with her husband, daughter, and far too many pets.
Need help growing and nurturing your writing career?
How about tending your career over time in a world driven by distraction, stress, and superficiality?
The Writer's Workout contains 366 ideas for expanding your craft, sales, self-promotion, and professional development process, without repeating all the same old advice.
Here's a few fun things you don't know about The Writer's Workout:
The book is written with a distinctively balanced, measured, natural approach to growing a writing career over time.
The message of this book is to stop pushing your writing, to give rushing a break, and let your creative efforts flow in a more natural, authentic way instead.
The format of the book is divided into seasons. The book begins with spring because it is a natural time to start growing things, and then proceeds from there through summer, fall, and winter.
The book is THICK. There is a ton of value crammed into this book because of the format: 366 distinct topics all in one book!
This book is not full of sport analogies. In fact, it goes very light on the sport analogies. Yes, it's sporty looking on the outside, but the tone of the book definitely strikes a balance between the yin and the yang of the writing life.
This book is not just me in your face shouting, "Go, go, go!" This is a book that aims to help YOU become your own best writing coach.
The book includes 366 timeless insights from other writers. Their combined wisdom alone is worth the cover price.
None of this is the official jacket copy because the jacket copy is not finished yet. I'm waiting to see it right along with you. But I hope this provides a bit of a preview into what's coming soon.
I can't wait to share it with you!
• • •
Yesterday, you discussed getting hot and sweaty, so today let's get a little more esoteric.
How has your writing impacted your emotional and spiritual life, if at all? If it hasn't, would you like it to? If it has, please tell us how. Share anything about how writing has had a profound impact on your life. Got any stories about this?
Answer in the comments in 50-200 words (no less and no more to qualify to win one of today's books). Please read the complete rules at least once!
Thanks for participating in the Writer Mama Every-Day-In-May Book Giveaway!
Like this post? Subscribe to my Feed!