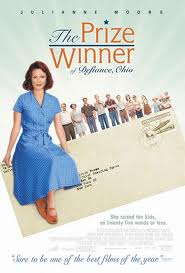 I have a soft spot in my heart for this movie because I think it really speaks to the challenges of creative moms at a time when there were a lot less avenues for moms to stay home, raise a family, and earn money by their wits.
There's a lot to NOT emulate in this movie, of course. For example, maybe don't traumatize your kids by leaving them with an active alcoholic. All the same, I don't think there is a mom writer out there who won't empathize with Evelyn Ryan and her isolated creative condition.
I think there are a few tricks that Evelyn had up her sleeve that all of us can learn from:
Be Determined. Forget Talent. Bend (Don't Break) the Rules. Katigira Roshi taught Natalie Goldberg that it takes "great determination" to become a successful writer. Similarly, in the film, Evelyn says, "It wasn't that I was any more gifted than your average conterester. I was simply more determined. I was so prolific, in fact, I borrowed each of my children's names."
Have Your Own Bank Account. Evelyn puts the down payment on her family's house but doesn't get to have her name on the mortgage. I was reminded recently by my one of my students of the important of setting a clear intention to earn by opening a bank account specifically for writing earnings. Intentions are powerful. Set your intentions and back them up with action.
Be Resourceful. Find a Way to Motivate Yourself. I recently checked out Janet Evanovich's website. She says: "I motivate myself to write by spending my money before I make it." Similarly, but a little less glamorously, in the film, Evelyn says, "My creative outlet usually corresponded directly with our needs." The needs of the Ryan family were gaping. Hence Evelyn was quite prolific. But she wasn't lucky; she was good at what she did. That skill was cultivated through the same two qualities I emphasize with my students: preparation and practice.
Forgive and Move Forward. You can't create with a heart tainted by hate and resentments. Evelyn says to Tuff about her father, "Forgive him so you can embrace this truly remarkable day." Whoever it is. Whatever they did. You'll feel better if you can forgive, even if you never forget.
Live In The Moment. You can't do your best writing without being 100% present. Evelyn lived in the moment. She seized the opportunities that were presented to her despite her husband's alcoholism. Evelyn produced her own success from very humble (and heart-wrenching) circumstances. Anyone can. Focus is required.
Believe Everything Is Possible. Evelyn tells her daughter, Tuff, that she has "a marvelous mind and a beautiful heart" and a wonderful life ahead of her. Tell yourself the same thing, no matter what has been the case in the past.
If you want to produce your own successful results, then keep your eye on the prize, like Evelyn did.
Like this post? Subscribe to my Feed!