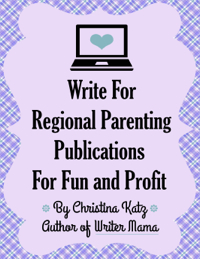 I am very pleased, almost six years to the day after the launch day of my first book Writer Mama, to announce the launch of my second e-book, Write For Regional Parenting Publications For Fun & Profit.
This is the first e-book I have self-published since I published Author Mama in 2010—and boy was that a big learning curve. This time I have a slight advantage—I have helped over a dozen writers publish their own high-quality e-books. So between this and writing three traditionally published books for Writer's Digest, not to mention an e-workbook, I am getting the hang of this by now.
I am following the same pattern that I did with Author Mama and publishing Write For Regional Parenting Publications For Fun & Profit in a Beta edition first, and then launching the final, corrected e-book in two weeks. Keep reading to find out what you can win if you participate in giving me feedback on the e-book.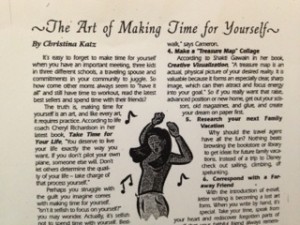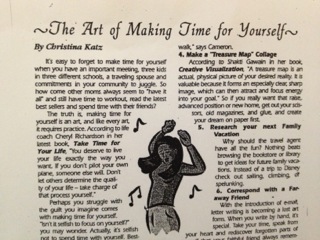 This e-book has been a long time coming. I started writing for regional parenting publications twelve years ago when my family was living in Bellingham, Washington, and Northwest Family provided me with one of my early clips for "The Art of Making Time For Yourself." (Maybe some of you have heard of this article?)
I was writing for other types of publications at that time and since, but there is something very special and especially fun about writing for regional parenting publications. The process has always held a warm place in my heart, even though I started writing for "the regionals" before I became a parent myself.
Fast-forward twelve years and I still love writing for regional parenting publications. I also still love teaching and coaching mom writers to do the same and much more. The success rates that my long-term students are accomplishing would impress anyone. I feel very proud of the contributions that I have made to mom writer publishing success, in general and personally, and all on top of my own publishing successes.
So thank you for joining me in welcoming this new addition into my book/e-book family. It has been a dream of mine to publish an e-book like this for many years, and you can read about why in the dedication of the e-book.
And now, drum roll, please…! Folks who purchase the e-book in the next two weeks will receive a feedback form. Everyone who completes and submits a feedback form will be entered into a random drawing for a spot in my May 2013 Writing & Publishing The Short Stuff class. LINK
If you know me, you know it is highly unusual for me to give away a spot to my coveted WPSS class and this will not take the place of the scholarship recipient for the upcoming round. I just thought, since the class is compatible with the goals of readers of this e-book, I would make an exception. And, of course, you are under no pressure to take the class if you do not wish to or already have. If the winner does not wish to take the class, I will simply draw another person. Folks who have already taken the class can have an hour of free coaching instead.
E-books are now available for automatic download upon purchase. Thank you for purchasing a copy for yourself and letting all of your writing friends know about the e-book. I look forward to the feedback from folks who wish to participate and to delivering the final edition on March 25th.
Click here to purchase Write For Regional Parenting Publications For Fun & Profit:
Happy spring, writers.
Hope this e-book helps a whole lot more parent writers to spring forward in your writing careers!
Like this post? Subscribe to my Feed!