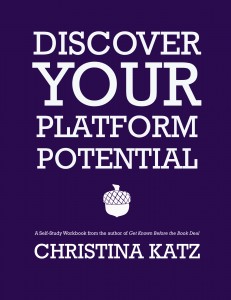 …and discover a whole new career in the New Year!
Discover the writing career that is the one you always wanted, not the one you feel like you got stuck with because of a challenging marketplace.
The truth is: we are creating the marketplace. Writers and readers are co-creating the marketplace together. We get to decide whether this affair is fun or not. So let's decide to make it more enriching for all of us.
Where do you fit in? How can you enjoy your career more in 2013 instead of being driven into survival mode by fear and anxiety?
You can take a little time to dive deeper into who you are already by uncovering what makes you unique before you get busy. If you have been busy all year long without much time for reflection about the big picture of your career and where and how you fit in, then this e-workbook is for you.
The marketplace is crowded. Every single person you encounter in your career needs to know what makes you unique. Otherwise you are just part of the masses. Just another name in the crowd of millions of writers.
Growing a prosperous, ever-evolving, engaging platform is worth time and reflection each year. If you don't take the time to do this work each year, a year from now, you will only be further along on the trajectory you are already on today.
Is this the trajectory you wanted? Do you want to deepen and expand on opportunities you've already started? Are you enjoying your writing career as much as you had hoped you would?
If you answered no to any of these questions, then my workbook, Discover Your Platform Potential can help you take your writing career to a deeper, more prosperous, more satisfying level with less fear and anxiety and more personal satisfaction on a daily basis, when you apply what you learn from the workbook.
Today is the last day for the discount price. Tomorrow the price goes back up. Don't miss this chance to conduct an annual inventory on your platform, find out what makes your writing career tick, and then ride that platform power into your most successful year yet in 2013.
Happy almost 2013, writers! Let's build a more prosperous future for writers together, folks. And that future begins with you and your platform potential.
• • •
Get Known Before The Book Deal, Use Your Personal Strengths To Grow Your Author Platform is written by Christina Katz for Writer's Digest Books. For sale everywhere quality books are sold, including: Amazon, Barnes & Noble, Powell's, IndieBound and Writer's Digest. Watch the book trailer. Check out the companion workbook, Discover Your Platform Potential. Read my Writer's Digest article, "50 Ways To Build Your Platform In Five Minutes A Day." If you are ready to get to work, see when my next Discover Your Specialty & Launch Your Platform class begins. Ready to build your writer platform? Let's uncover what sets you apart from the crowd…together.
Like this post? Subscribe to my Feed!