One of the most exciting reasons to micro-publish these days is because you can make an international impact on your target audience in a very short amount of time. Thanks to the emergence of helpful publishing technologies for self-publishers, it is easier to go global with your manuscript than ever.
Case in point, I recently received a rave review of Permission Granted, 45 Reasons To Micro-publish from an editor in Puerto Rico, who offers self-publishing services there.
Here's what she had to say:
I've been working with self-published authors for a couple of years now and I had not heard of "micro-publishing" until I saw Christina Katz's book Permission Granted: 45 Reasons To Micro-Publish. I was happy to see that her tips align with the advice that I have been giving my clients: don't think about one book, think about creating multiple products from a single manuscript. If ever there was a doubt of what can be done with one's work, Christina has gathered 45 wonderful tips to encourage an author's next step.
I particularly liked that she presented the benefits and possibilities of micro-publishing from different points of view: established author, aspiring author, and any writer. After reading it, you'll feel the urge to micro-publish your work as soon as possible. I know I do! In the end, I found reasons to micro-publish my own work and not just encourage my clients to do so. I must teach by example. Thanks, Christina! ~ Vigimaris Nadal-Ramos, @editorialnarra
Do you have your copy of Permission Granted yet?
Have you considered the benefits that micro-publishing might offer your career?
If not, I am thrilled to let you know that Permission Granted is now available for every type of e-reader and is available for purchase all over the globe.
If I can do it, so can you. Anyone can micro-publish. But don't wait. Start planning now. You will be so glad you did a few years down the road.
And don't forget, everyone who purchases Permission Granted gets the "Cliff Notes" version as a list of featured quotes from the book you can download for free!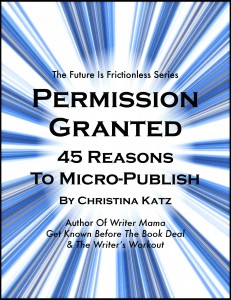 Like this post? Subscribe to my Feed!