[Participants, please note: Please comment on the book giveaway post that matches the day. This is day 2 = May 2nd. Day 1 ended at midnight May 1 PT. However you can always comment late just to answer the questions, if you like.]
Why say wonderful things about Kelly James-Enger when I can just copy and paste my blurb from her latest book?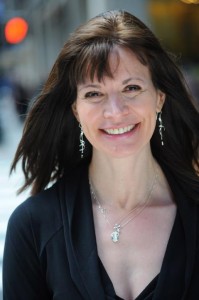 The words "total professional" seem to have been invented to describe Kelly James-Enger. I have been a long-time fan of her previous writing books and I will also highly recommend Writer For Hire. This may be the champion of all the writing books James-Enger has written because it contains her best advice compressed into short chapters that make for speedy reads. If you are a service writer looking for the secrets to success, they are all in here! It's taken James-Enger fifteen years of hard-wrought effort to learn them, and now they can be yours. Read closely. Bring a highlighter. Apply what you learn. You'll be so glad you did.  ~ Christina Katz, author of The Writer's Workout, Get Known Before the Book Deal and Writer Mama
And how perfect that my copy arrived via Fed Ex today. Hooray!
But it's mine. You can't have it. You are going to have either win it or order your own.
And I hope you will. Kelly's advice has been instrumental to my career. Please help me welcome her!
About Kelly James-Enger
Kelly James-Enger has been a fulltime freelancer, ghostwriter, and author for 15+years. Her books include the just-released Writer for Hire: 101 Secrets to Freelance Success (Writer's Digest, 2012) and Goodbye Byline, Hello Big Bucks: The Writer's Guide to Making Money Ghostwriting and Coauthoring Books (CreateSpace, 2010). She blogs about making more money in less time as a freelancer at http://dollarsanddeadlines.blogspot.com, and lives outside Chicago with her husband, son, daughter, and golden retriever. Visit http://www.becomebodywise.com for more information about her.
About Writer for Hire
There's no shortage of books on crafting book proposals, writing novels, overcoming writer's block, and getting in touch with one's muse. But what about a book for writers who simply want to earn a regular paycheck? Writer for Hire is just the wisdom full- and part-time freelancers need. Author Kelly James-Enger details:
101 secrets to success, organized into five overarching strategies. You'll be able to implement what you learn immediately.
Invaluable advice on managing deadlines, querying effectively, working with clients, handling taxes, invoices, and more.
Strategies for getting more writing gigs, including networking (in-person and online), establishing yourself as an expert, working more efficiently under tight deadlines, and handling rejection with confidence
James-Enger looks at the "whole freelancer," addressing both the craft and business of freelancing.
The Very Short Interview
This year's author interview theme? The story of Kelly's writing career in miniature! Here's what I asked Kelly:
When did you know for sure that you were a writer and that writing would be a major energy focus in your life?
While I wrote as a child, I'd say it was in college (I majored in rhetoric) and afterwards. I pretty much quit writing during law school and the first year of practice, but then started writing (bad) short fiction again. Then when I realized I had a much bigger chance of getting published with nonfiction, I started writing nonfiction articles and selling them. Eventually I started writing (and selling) novels, too.
Who has always been behind your writing career and who helped pull you up the ladder of success?
My then-boyfriend/now husband was supportive from day one, even when it meant leaving behind a successful career as an attorney. My mom was also supportive. But I would say no one helped pull me up the ladder of success—I did that pretty much all on my own. It's one of the reasons I started writing about writing, trying to provide the tools and support I wished I would have had as a new writer.
What is the most frequent comment you hear about your book (or books) from readers? Tell us a little story about the response to your work.
It depends on the book! For my nonfiction books on successful freelancing, the most frequent comment is that my book helped him or her launch and/or sustain a freelance career. With my fiction, it's that my books are so relatable and funny. I just had a reader contact me out of the blue, reminding me that he had loved my first two novels. I told him I had a new one out and not only did he buy it—he published a glowing review on Amazon and Smashwords, which really made my day. 🙂
And Now, Your Turn
Now it's your turn. You remember how this works right?
I ask you a question. You answer in the comments for your chance to win a book each day.
Please just respond once, even if you make a typo.

Answer in the comments in 50-200 words (no less and no more to qualify to win one of today's books). Please read the complete rules at least once!
Thanks for participating in the Writer Mama Every-Day-In-May Book Giveaway! I hope to see you here every day this month. Bring your friends!
Q: List all of the times you have totally surrendered yourself to the creative process and what that experience was like.
Don't feel limited to writing, any creative experience works, (however, please keep it rated PG).
Ready, set, comment!
Like this post? Subscribe to my Feed!