With great pleasure I'd like to introduce Therese Walsh. Therese is not only a fantastic novelist, she is also the co-founder of Writer Unboxed, a terrific resource for writers. And just think, if it wasn't for the Internet and online networking, I might never have met Therese. Three cheers for the Internet! Please help me welcome a true encourager of writers.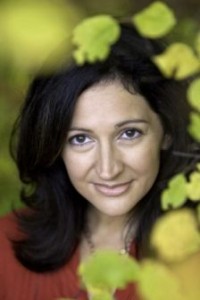 Therese Walsh is the author of The Last Will of Moira Leahy (Crown, Random House), and is the co-founder of Writer Unboxed, a blog for writers about the craft and business of fiction. She is the writer-mama of two writer-kiddos and more four-legged critters than she cares to admit. (Oh, okay, four.) Learn more at her website.
Maeve Leahy is a busy professor of languages with no time for memories of her lost twin, Moira, or of her many lost opportunities. Until a childhood relic and a series of anonymous notes changes everything—resurrects her long-dead dreams, a lost language, her most painful recollections, and prompts her to cross an ocean in search of ancient history. There, Maeve will learn new truths about her past,  and come face to face with the one thing she truly fears. Only then can she choose between the safe yet lonely life she's built for herself and one of risk, with bonds she knows can be both heart-breakingly delicate and more enduring than time.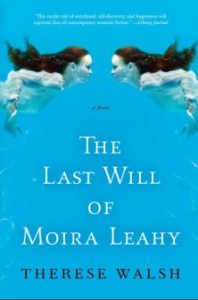 1. How has writing (either just the act of writing or writing this book or both) impacted your self-confidence?
I began writing The Last Will of Moira Leahy in 2002 with little creative writing experience. (I was a science major in college.) As I wrote, I studied my craft; and as I learned, my writing improved significantly. I came to understand that writers direct a great deal of their own evolution and ultimate success. If writing were a sport, it would be running: It's all you–your willpower, the conditioning you demand of yourself, and your fight. And when you climb hill after hill, then look back to realize how far you've come–when you look back at your earliest pages and can clearly see your improvement as a writer–it's an incredible confidence booster.
2. What are three words that describe your creative book-writing process?
Unpredictable. Surprising. Evolving.
3. What good has your book created in the world?
There are two stories I've heard about The Last Will of Moira Leahy that make me feel especially gratified. The first is that the novel literally saved the life of a woman who was low-down and read it, and felt lifted out of her dark place. The second is that a dying woman read the book–after months of not being able to finish anything–and loved it. It was the last book she read before she died.
• • •
I like this part of what Therese said, "…writers direct a great deal of their own evolution and ultimate success." How are you taking the reins of your writing career and steering it towards success, whatever that means for you?
Answer in the comments in 50-200 words (no less and no more to qualify to win one of today's books). Please read the complete rules at least once!
Thanks for participating in the Writer Mama Every-Day-In-May Book Giveaway! Thanks for spreading the word!
Like this post? Subscribe to my Feed!