I noticed the book, Hot (Sweaty) Mamas mentioned by Kate Hopper in a giveaway post on her blog and thought, That sounds like a book I sure need. So I decided to invite Kara and Laurie to come on over and give away a book here. They were kind enough to oblige. Please help me welcome these two hot, sweaty mamas!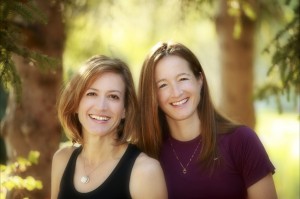 Kara Douglass Thom was a runner and triathlete long before she became a mom and finds her multisport training skills apply to mothering her four young children, 7-year-old twin girls, a 6-year-old daughter and 2-year-old son. She is the author of two other books, "Becoming an Ironman: First Encounters with the Ultimate Endurance Event," and the children's book, "See Mom Run." She writes about health, fitness and parenting for numerous publications and blogs about finding fitness in the chaos of motherhood at Mama Sweat.
A veteran endurance athlete, Laurie Lethert Kocanda has completed over 35 marathons, two Ironman triathlons, and two ultramarathons… so far. Motherhood has made her tougher—she's conquered more miles and covered them faster as a mom than she did before. Laurie is an ACE certified group fitness instructor and has been revving up group cycling classes for over ten years. As the former editor of two regional sports magazines and a freelance writer for local and national publications, Laurie's writing focuses on fitness, family, women's issues, and pregnancy. She has two daughters, who are 9 and 5.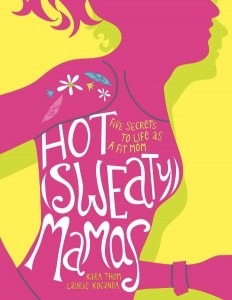 Hot (Sweaty) Mamas: Five Secrets to Life as a Fit Mom goes beyond "getting your pre-baby body back." It's about how to make fitness a priority and protect that priority as ruthlessly as you would your children. Authors Kara Thom and Laurie Kocanda offer advice on how to fold fitness into a busy mom's life and address the realities fit moms face (sleepless nights and clingy toddlers among them). Raising fit kids is important to fit moms, too. Hot (Sweaty) Mamas includes ways to workout with kids in tow and why this fitness mentoring will help kids grow up to be active. More about the book at www.hotsweatymamas.com.
From the authors:
1. How has writing (either just the act of writing or writing this book or both) impacted your self-confidence?
When we first set out to write the book the first agent we approached didn't like the original idea, which was an essay book about how fit moms were making it work. She thought a how-to book was in order. At the time we had toddlers and were learning the ropes of fit motherhood and it was hard to comprehend ourselves as experts. Now, almost five years and six kids between us, we feel we have a lot to offer in the way of expertise! Still we're not "know it alls," and we think that tone is reflected in the book. We're on this fit-motherhood journey together and this like-minded community has a lot to share with each other. Our Facebook page is certainly a reflection of that.
2. What are three words that describe your creative book-writing process?
For two busy work-from-home-mom co-authors: Back And Forth!
3. What good has your book created in the world?
As we all know motherhood can often be an isolating endeavor. What we experienced the moment we reached out for input for the book is how important the "sweaty sisterhood" is for fit moms. We know Hot (Sweaty) Mamas is helping connect this community and share ideas for fitness. The #1 reason moms in our survey said they exercise is for their "sanity"so in this way we are keeping each other physically and mentally healthy!
• • •
What do you do for your combined physical and mental health? Is there more you'd like to do? Describe your perfect hot, sweaty, writer mama workout. 🙂
How about you? Are you committed to your creative projects no matter what? Can you tap your great determination and use it to tackle the writing projects that matter most to you? Tell us what great determination means to you.
Answer in the comments in 50-200 words (no less and no more to qualify to win one of today's books). Please read the complete rules at least once!
Thanks for participating in the Writer Mama Every-Day-In-May Book Giveaway! Thanks for spreading the word!
Like this post? Subscribe to my Feed!