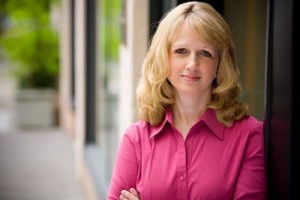 Have you ever been surprised by an author?
And I don't mean surprised by an author's writing. I mean have you ever been surprised by the author herself…as in at the front door!
I was surprised by Lisa Schroeder at the front door of a friend's house a few weeks ago at the monthly gathering of Samantha's Mother-Daughter book club.
Here's the whole story about how I met author Lisa Schroeder just a few weeks ago.
Did you read it? Cool, right?
I hope this story inspires more moms to start Mother-Daughter Book Clubs, as well as inspiring more readers of Lisa's books, and inspiring more moms to write middle grade fiction.
Of course, I'm not going to try and inspire any authors to show up at anyone's door. You'd have to be pretty brave and spontaneous to do that. And speaking of both qualities, please help me welcome Lisa Schroeder.
About Lisa Schroeder
Lisa Schroeder is the author of the teen verse novels The Day Before; I Heart You, You Haunt Me and its companion novel, Chasing Brooklyn; and Far from You. She is also the author of two middle-grade prose novels, It's Raining Cupcakes and Sprinkles and Secrets. She lives in Beaverton, Oregon. Find out more about Lisa and her books at LisaSchroederBooks.com or on Twitter at @Lisa_Schroeder.
About It's Raining Cupcakes and Sprinkles and Secrets
Twelve year old Isabel is dying to get out of Willow, Oregon (population 39, 257) and experience something other than her small town. It seems that everyone gets to travel except Isabel–even her best friend, Sophie. When Isabel's mother decides to open up a cupcake shop across town, Isabel is once again stuck in Willow for the summer as she tries to help her mom get the shop up and running. But when Isabel learns of a baking contest where the finalists get an all-expense paid trip to New York City, she realizes this is her chance to finally get out of Willow. Except there are two major roadblocks to this plan: Sophie, who also is entering the contest and is always the best at everything, and her own mom, who wants her to enter the contest on her terms.Can Isabel manage to finally do something for herself, without losing her best friend and further straining her already tenuous relationship with her mother? In this sweet coming-of-age story from popular teen author Lisa Schroeder, Isabel discovers that it's not about where you go in life as much as it is about enjoying the view wherever you are.
Sprinkles and Secrets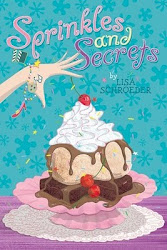 Twelve-year-old Sophie has always dreamed of being an actress and being in front of the camera. When that dream comes true and she's offered a T.V. commercial spot, she's over-the-moon happy. But then she finds out what exactly she'll be advertising: the delectable, ever-popular brownies from BEATRICE'S BROWNIES, which just so happns to be the number one competitor to IT'S RAINING CUPCAKES–owned by her best friend, Isabel's, family.
Sophie has a tough choice to make: Follow her dreams or crush her best friend.
What's a girl to do?
The Very Short Interview
When did you know for sure that you were a writer and that writing would be a major energy focus in your life?
Probably about ten years ago when I got my first rejection letter from an editor. It suddenly felt so real, that I was really going after my dream. I knew the odds were stacked against me, and yet, I loved writing stories and felt like I'd finally found what I was meant to do with my life. The first rejection letters didn't upset me, instead they spurred me on. I told myself I would just keep writing until I finally wrote something they couldn't say no to.
Who has always been behind your writing career and who helped pull you up the ladder of success?
My friend, Lindsey Leavitt (author of the PRINCESS FOR HIRE series), has been cheering me on and letting me cry on her shoulder for a number of years now. We met when we were both unpublished, because we were both looking for critique partners. I loved her sense of humor and down-to-earth quality, and we became fast friends. I feel so blessed to have her in my life and to call her my friend. I love her bunches, and I don't know what I'd do without her.
What is the most frequent comment you hear about your book (or books) from readers? Tell us a little story about the response to your work.
For the CUPCAKE books, it's usually the question – are there going to be more books about Sophie and Isabel? I'm glad that for now, I can say yes, there will be one more in 2013.
I also have four novels for teens published, and the most frequent comment I get is, "I usually hate to read, but I love your books." One mother wrote to me and told me her daughter struggles with a learning disability, so she rarely reads for fun because she has to work so hard in school. My novel, I HEART YOU, YOU HAUNT ME was the first novel she'd read for fun, and enjoyed it so much she was reading lines out loud to her mom. She ended the e-mail by telling me, "I just wanted you to know about the miracle that occurred in my living room tonight. Thank you."
I'm so thankful for all of my readers – they're the best!
And Now, Your Turn
Now it's your turn. You remember how this works right?
I ask you a question. You answer in the comments for your chance to win a book each day.
Please just respond once, even if you make a typo.

Answer in the comments in 50-200 words (no less and no more to qualify to win one of today's books). Please read the complete rules at least once!
Thanks for participating in the Writer Mama Every-Day-In-May Book Giveaway! I hope to see you here every day this month. Bring your friends!
Lisa Schroeder writes books for middle grade kids and also for young adults. If you were going to write a children's book what age would you write for and why? What would the book be about? Any themes or settings you know you would include?

Ready, set, comment!
Like this post? Subscribe to my Feed!