[Participants, please note: Please comment on the book giveaway post that matches the day. However, you are welcome to comment late just to answer the questions, if you like.]
I met Katie Davis when she was kind enough to participate in an article I was writing for Writer's Digest magazine called, "Elements of a Successful Fiction Platform." Cindy Hudson referred Katie to me for the article. And I'm happy to announce that Cindy will also be a part of the giveaway later this month.
So, thanks to Cindy, and I guess thanks to me too, here's Katie. Please help me make her feel welcome.
About Katie Davis
Children's author/illustrator Katie Davis has published ten books, nine of them for children and one for adults, an eBook, How to Promote Your Children's Book: Tips, Tricks, and Secrets to Create a Bestseller. She appears monthly on the ABC affiliate show, Good Morning CT, recommending great books for kids. Katie produces a podcast, Brain Burps About Books; she writes a blog and monthly newsletter; and has designed and hosted webinars, all in an effort to "spread the gospel of kidlit."

About Little Chicken's Big Day
"I hear you cluckin', Big Chicken!" That's the simple refrain that Little Chicken repeats to his mama throughout a typical day. But Little Chicken can be distractable . . . and when he wanders off and gets lost, the day becomes anything but typical. With subtlety and humor, this sweet little story sweeps through a wide range emotions using the simplest of language.
The Very Short Interview
This year's author interview theme? The story of Katie's writing career in miniature! Here's what I asked Katie:
When did you know for sure that you were a writer and that writing would be a major energy focus in your life?
When I was a kid and knew it was my only hope of raising my grade that math had dragged down to a disgrace. I wrote my first picture book when I was 15, in college I majored in photo-journalism and when I got out, worked at any job where I could write, not realizing that picture book writer was a career option. It took a long time to get there!
Who has always been behind your writing career and who helped pull you up the ladder of success?
My husband has been my biggest cheerleader (even though the uniform really isn't *him*). He's the one who encouraged me to go to the SCBWI 25th anniversary conference which started it all for me. He's also gives a very good critique.
What is the most frequent comment you hear about your book (or books) from readers? Tell us a little story about the response to your work.
I love when I hear that my books have made a reader laugh or that a child learned to read because they loved my book. I get those a lot but never often enough!
Extra Bonus!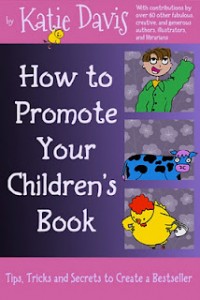 This book has 30 chapters, 217 pages, each with homework to help you get motivated and started on your path to promote your book, and build your career. Over 60 authors, illustrators, and librarians contributed countless (I tried but lost track) pieces of advice to promote your book and support your career. There are resources, links, and videos.
And Now, Your Turn
Now it's your turn. You remember how this works right?
I ask you a question. You answer in the comments for your chance to win a book each day.
Please just respond once, even if you make a typo.

Answer in the comments in 50-200 words (no less and no more to qualify to win one of today's books). Please read the complete rules at least once!
Thanks for participating in the Writer Mama Every-Day-In-May Book Giveaway! I hope to see you here every day this month. Bring your friends!
Q: What is your proudest writing accomplishment? You will need to be fairly explicit to make this 50-200 words. So tell us, why this one? Why not something else you wrote?
Ready, set, comment!
Like this post? Subscribe to my Feed!