After I got the book deal for Writer Mama, Kelly James-Enger introduced me to a friend of hers, who had also just gotten her first book deal. Sharon Cindrich and I have been phone buddies ever since, sharing the roller coaster of this crazy book-writing biz ride over the past five years. I owe a big debt of gratitude to Kelly (who I finally got to meet in person at the OWFI Conference in Oklahoma a year ago). I can't wait for the day that Sharon and I finally get meet in person…hopefully in 2012. And p.s. my daughter loves her latest book.
Sharon Cindrich is a mother of two, journalist, columnist and and author of several books including "A Smart Girl's Guide to Style." Her family-tech column, "Plugged In Parent," appears in newspapers and magazines across the country. Learn more at www.pluggedinparent.com.
"A Smart Girl's Guide to Style: How to have fun with fashion, shop smart and let your personal style shine through" is produced by the awarding-winning American Girl Publishing. This book shares advice on clothes, accessories and fun fashion tips, with a focus on helping young girls let their personal style shine through. Girls can take quizzes to figure out which looks make them feel comfortable and confident, find tips for smart shopping and ideas on how to tackle fashion emergencies. Honest insights from other girls offer ideas on how to ignore fashion critics, explore creative interests, and stay true to themselves.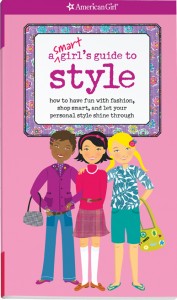 1. How has writing (either just the act of writing or writing this book or both) impacted your self-confidence?
The thing I love about writing is the ability to connect with others and provide some value or impact for their life. Each article or column or book that gets published reminds me that my words can make a difference, enlighten or entertain.
2. What are three words that describe your creative book-writing process?
Exciting, exhausting and purpose-driven

3. What good has your book created in the world?
Girls have always grown up with an awareness of the social expectations surrounding image and looks. My hope is that this book helps girls cultivate a sense of confidence and curiosity in regards to self expression during the years in which they are learning about themselves, their own interests and their own personal style. I believe it offers an opportunity for girls to  creatively explore the type of expression that fashion is designed to afford in an unbiased way, while also addressing the real-life challenges of peer pressure and insecurities that every girl faces in daily situations.
• • •
Thanks for participating, Sharon!
What a great opportunity to talk about style. And if any of us grown-up girls need any assistance on this topic, we can always borrow Sharon's book from our daughters. 🙂
What's your style? I'm not even going to clarify what I mean by "style" — just answer the question in any way you like (within the word count). Have fun with it. Write as creatively or straightforwardly as you like.
Answer in the comments in 50-200 words (no less and no more to qualify to win one of today's books). Please read the complete rules at least once!
Sharon is allowed to answer too, but not until tomorrow, after her winner is drawn, because she can't win her own book.
Thanks for participating in the Writer Mama Every-Day-In-May Book Giveaway! Please bring some friends next time you come. 🙂
Like this post? Subscribe to my Feed!