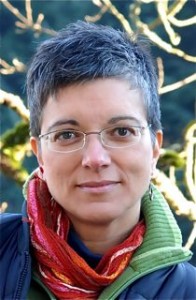 I cannot remember how I first met Naseem Rakha, but I remember that the first thing I thought when I heard of her book The Crying Tree was I wanted to invite her to The Northwest Author Series. She kicked off the third series with her book, which has gone on to enjoy wide critical and popular acclaim. Please help me welcome Naseem…

Naseem is an award-winning journalist whose stories have been heard on NPR's All Things Considered, Morning Edition, Marketplace Radio, Christian Science Monitor, and Living on Earth. She lives in Oregon with her husband, son, and many animals. When Naseem isn't writing, she's reading, knitting, hiking, gardening, collecting rocks, or just watching the seasons roll in and out.
The Crying Tree, now available in paperback, reaches into the heart of a family nearly torn apart by a mother's act of forgiveness. It is a story of things not being what they seem, family secrets, and how these furtive actions reverberate through many lives. Dramatic, wrenching, and ultimately uplifting, The Crying Tree is an unforgettable story of love and redemption, the unbreakable bonds of family, and the transformative power of forgiveness.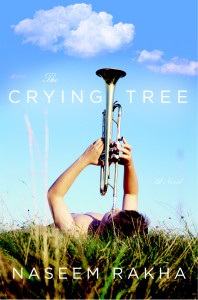 1. How has writing (either just the act of writing or writing this book or both) impacted your self-confidence?
Writing a book was always the BIG thing I could NOT do. No one could. Only people born under the right stars, or who had the right connections, or possibly did obscenely crazy things, like hike across the Antarctic with nothing but a martini glass and a zoot suit (what is a zoot suit?) could get their books published. But, as it turns out, I was wrong. And in being wrong, I was simultaneously blessed. My dream came true. I wrote a book. It was picked up by Random House and publishers in ten other countries. It has won an award, and has become an international best seller. Did that boost my self-confidence? Hell yes. Now, when contemplating dreams, I no longer think it just has to do with stars aligning, but good old-fashioned hard work,  ambition, and plenty of alms to the goddess of your choice.
2. What are three words that describe your creative book-writing process?
Write. Write. Write.
3. What good has your book created in the world?
I always knew I wanted to write a book that made people think, and the feedback I receive in the mail and at book groups tells me I have done that. This is incredibly gratifying. People think about the characters, their trials, their faults and failures. They reconsider their opinions on topics of crime, punishment, the death penalty and forgiveness. Young adults and parents tell me they appreciate my addressing the issue of sexual identify and acceptance. Prisoners tell me how it has moved them to want to do more in their community. In all, the experience has been more than I could have dreamed, and is utterly humbling.
• • •
Thanks for participating, Naseem!
For today's prompt, I'm going to riff off something that Naseem said in answering the questions. Ready?
What's the ONE thing you are afraid to do in your writing career? And what if — gasp! — you did it? What's the worst thing that could happen? What's the best thing that might happen? Go ahead and dream. We do that around here sometimes. 😉
Answer in the comments in 50-200 words (no less and no more to qualify to win one of today's books). Please read the complete rules at least once!
Naseem is allowed to answer too, but not until tomorrow after her winner is drawn, because she can't win her own book.
Thanks for participating in the Writer Mama Every-Day-In-May Book Giveaway! Please bring a small crowd next time you come.

Like this post? Subscribe to my Feed!