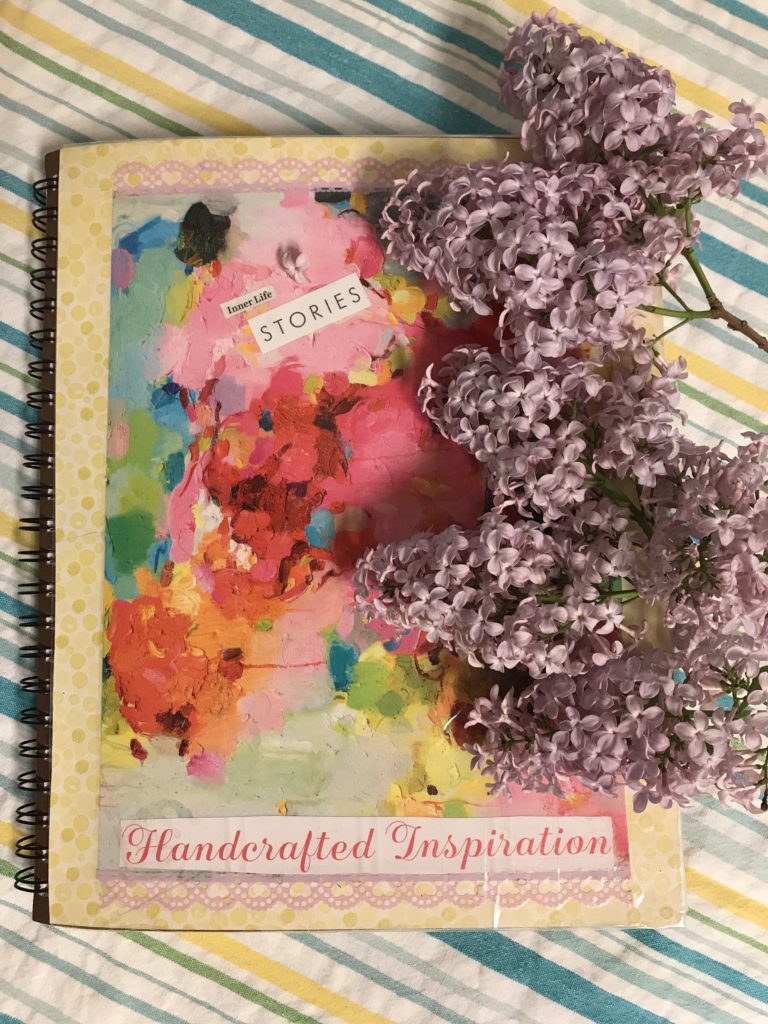 I attempt to collage daily in my Joy Journal. What this means is that I collage most days. Collage journaling is a straight path to self-discovery, inspiration and everything that makes me tick. What I love most about collage journaling (which I call Joy Journaling) is that it helps me stay up-to-date with myself.
What do I like, want, and need? I can find the answers by flipping through my Joy Journals.
When I stay up to date with myself, life is an exciting adventure. When I don't keep up to date with myself, it's too easy to fall into serial monotony. I don't want to live a life of serial monotony, and that is the primary reason I have a daily creative practice.
While I recognize that there are many possible daily creative practices, I enjoy collaging at this juncture in my life. Since I'm a professional writer, I can use all of the daily inspiration I can get.
I am grateful that supplies for joy journaling are readily available locally and online. I make an effort to use what I have on hand or can find inexpensively around the house in my Joy Journal. Since my journal reflects me uniquely, it makes sense to find scraps from my life. However, it's also important to choose supplies that make collage journaling fun and inspiring, since that's the whole point.
Here's a quick list of supplies I use regularly.
Old magazines: Stop by your local library to see if you can purchase their old magazines. Ours has magazines on a rack in the library store. Visit library stores in surrounding towns, if you want to acquire a bunch of magazine on the cheap. Also consider asking your local friends to drop their used magazines on your stoop when they are done with them, or ask professionals who have magazines in waiting rooms if you could pick up pubs they no longer want. You can subscribe to magazines you love inexpensively at https://www.magazines.com/.
Scissors: I use the orange-handled Fiskars most often, but I also have several types of scissors on hand, including hair-cutting scissors. Try gathering up all the types of scissors you have in the house and test-driving them until you determine what other types of scissors you might need. https://amzn.to/2JIYtty
Cutting pad: I use a pink, self-healing cutting pad from Michael's. Check out these cutting pads. https://amzn.to/2KoyWqx
Exacto Knife: I use the Fiskars Heavy Duty Die Cast Craft Knife. Choose your own cutting knife. https://amzn.to/2jlLKlu
Bins/Storage Boxes: I use a storage bin from IKEA that slide into cubes from IKEA. But you could also use a paper sorter or a plastic bin. Paper sorter: https://amzn.to/2jnJ4ng Plastic bins: https://amzn.to/2HLm6Ry
Elmer's Disappearing Jumbo Purple Gluesticks: These are my favorite gluesticks, and I like that they are inexpensive. https://amzn.to/2JJA8Ue
Strathmore Sketchbook, 100 Sheets: I use this sketchbook for my collage journaling. I used to use a drug store variety, but I prefer the sturdier pages that this journal provides. https://amzn.to/2w5nzRe
Washi Tapes: Recently I started collecting washi tapes I come across on sale. I stick to color schemes that appeal to me. Adding washi Tape to almost completed journal pages provides a fun flourish.
Narrow washi tapes: https://amzn.to/2FxUL3e
Regular width washi tapes: https://amzn.to/2JLbhzv
Baggies: I use clear plastic Ziploc baggies to divide my materials up into categories. I currently have bags for small images, words and quotes, and ephemera. Keeping everything sorted allows me to work on my journal in phases without getting overwhelmed by too many choices. https://amzn.to/2HKanmm
Ephemera: Start collecting scraps of tissue paper, wrapping paper, ribbon, doilies, cup cake wrappers or any other type of flat materials you can use to embellish your joy journal pages. Keep these in their own baggies or in plastic storage bins. You can also find fun ephemera collections for sale on Etsy.
Round Vase: I use a large round display globe to store my washi tapes so I can easily see them and dump them on the table when I want to use them. Mason jars also come in handy for holding scissors, glue sticks and and pens or markers. https://amzn.to/2reDcRq
Feel free to make suggestions for collaging supplies, and I will add them to this post!
When I have something to say, this blog is the place where I give myself permission to say it. Though I often write about writing and creativity, I also write about issues that are important to me. I help folks become more creative for personal enjoyment, professional development and transformational growth. I am a veteran journalist, author and coach with over a decade and a half of experience and a wealth of techniques to share. Whether you are a professional creative or hope to become one some day, I can help you embrace your personal strengths, explore your creative possibilities, and evolve incrementally into your most inspiring self. If you are ready to achieve creative consistency in your life and career, email me about monthly coaching calls. Looking for more fun in your life daily? Then join us for Collaging For Self-discovery, my online accountability group. To learn more about increasing your creative confidence, please check out my online school. Stay tuned for ways to save money by becoming a Beta User for my next new course by subscribing to The Prosperous Creative. And don't forget to get these blog posts delivered to your inbox, so you never miss a post. If you appreciate my work—school, products, blog and social media posts—you are welcome to make a contribution of any size at any time. Thank you for your support!
Like this post? Subscribe to my Feed!