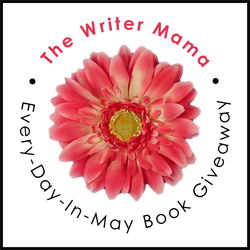 Yes, I am hosting a book giveaway and will give away a book a day all throughout the very, merry, Mother-centric month of May!
Nothing could thrill me more than this opportunity to showcase the hard-wrought labors of love of 31 awesome author moms.
Naturally, I would love to shine the spotlight on every hardworking mom writer. But I can't realistically showcase every single author mom under the sun.
For example, I do not have the time or the resources to personally vet self-published books and e-books for this year's giveaway. I just don't have enough time or energy.
So my parameters were that authors should have had a book (or anthology piece, for anthology day) traditionally published in the past year. This stipulation makes my job easier because I can trust that the publishers and editors vetted the work for me.
There are a few exceptions. If someone has been a long-time student of mine and has taken my Micro-publishing for Mom Writers class, then I've already vetted their e-book. And if someone is already a traditionally published author or they have a bonus e-book that they would like to offer, I'm happy to allow them increase the size of their giveaway. I hope this will not offend or discourage anyone.
Anyone can participate in the giveaway, not just mom writers. There is no cost or purchase to try and win books. However, the giveaway is inspired by mom writers and by my own experience as a mom writer and teacher of mom writers so they are the folks the giveaway honors.
I'll post the participation rules briefly in each post. And now without further ado, here are our week one author mamas!
May 1st: Claire Cook is giving away a copy of Wallflower in Bloom (fiction, advance copy!) More Info
May 2nd: Kelly James-Enger is giving away Writer For Hire (nonfiction, how-to) and an extra bonus The Honesty Index (fiction, ebook) More Info
May 3rd: Katie Davis is giving away Little Chicken's Big Day (children's) and an extra bonus: How To Promote Your Children's Book (nonfiction, how-to, ebook) More Info
May 4th: Kate Hopper is giving away a copy of Use Your Words: A Writing Guide for Mothers (nonfiction, how-to) More Info
May 5th: Erica Bauermeister is giving away Joy For Beginners (fiction) More Info
May 6th: Judy M. Miller is giving away What To Expect From Your Adopted Tween (nonfiction, ebook) More Info
May 7th: KC Klein is giving away Dark Future (fiction, dark, futuristic) More Info
Like this post? Subscribe to my Feed!