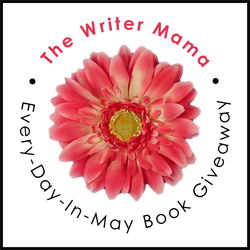 What a blast! Thanks for the fun, and the books, and all the hard work that you put into this month-long party. I thoroughly enjoyed it.
~ Carol A. on the Writer Mama Every Day In May Book Giveaway
Should mothers be celebrated for just one day in May?
No way!
That's why I had the idea to celebrate my biggest fans — writer mamas — every day in May with a daily giveaway of books by author mamas.
Which authors are participating so far?
We've got Cheryl Strayed, Claire Cook, Katie Davis and so many more!
And yes, I will offer an anthology day for my former students who have been published in anthologies in the last year! If you are a former student, please send me an email and let me know what anthologies published your work.
Thanks for telling all your mom writer friends to subscribe to this blog so they won't miss a single book. The big giveaway begins on Tuesday, May 1st right here! And we are going to have tons of fun!
This giveaway is just one of many free services that I have offered over the past decade for writers of various stripes.
I have given away thousands of dollars in scholarships to my writing career development classes over the past five years, offered free advice and inspiration in my blogs and newsletters for almost a decade, and created and hosted a regional community author series also for five years.
Almost a year ago I started an online fitness accountability group on Facebook called, Writers on the Move. This year I started a Beyond Busy Monthly Global Book Club for folks who are too busy to participate in local book clubs. Anyone who wishes to can join these groups.
Other labors of love include long resource lists I've compiled: Movies about Writers and the Writing Life and Books By Women Writers for High School Students.
This is the fifth time I've hosted a daily month-long book giveaway. Is it a ton of work? Yes.
Are author moms worth it? Yes. Are writer moms worth it? Do I even have to answer that?
During the first three years, this giveaway took place during September and was a back-to-school giveaway.
In honor of this year's giveaway, I am lowering the price of my new platform development workbook, Build Your Author Platform, to just $29.99 for the entire month of May. That's ten dollars off the usual price!
I'm also always offering my books, ebooks, classes, and training groups. Please feel free to check out any of my many offerings. I would love to hear what you think of my work and I would love to work with you. Please feel free to get in touch if you have any questions at christina at christina katz dot com.
I appreciate your support and I appreciate your support of author mamas everywhere. Go, us!
Like this post? Subscribe to my Feed!