Thanks for helping me welcome Pamela Jane. Pamela and I met over the phone and keep in touch online. Pamela is a prolific children's writer. I bet you will impressed with how much she has written. Welcome, Pamela!
Pamela Jane has published twenty-six children's books with Houghton Mifflin, Atheneum, Simon & Schuster, Avon, Penguin-Putnam, Harper, Mondo, and others.  Her books include Noelle of the Nutcracker, illustrated by Jan Brett which has been optioned for a film, and the "Winky Blue" and "Milo" series published by Mondo. Books in these series have recently gone into Spanish, big book, and CD editions. New and forthcoming titles include, A Vampire is Coming to Dinner!  10 Rules to Follow Little Goblins Ten and illustrated by NY Times best-selling illustrator, Jane Manning. Pamela's books have appeared in Scholastic Book Clubs, on ALA "Pick of the Lists," Weekly Reader, and foreign language editions. She also writes a web-based children's animation series for Little Fox Publishing.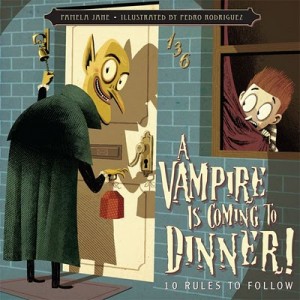 A Vampire Is Coming To Dinner! 10 Rules To Follow by Pamela Jane, illustrated by Pedro Rodriquez. After a vampire invites himself to dinner, the narrator comes up with some very practical rules for dealing with a vampire. Read along as the narrator of this story comes up with some very practical rules for dealing with a vampire. But rules are meant to be broken, aren't they? From feeding the vampire garlic to filling the house with mirrors, the narrator is doing just that! With ten full-page gatefolds and a pop at the end of the book, kids will love seeing which rules are being followed and which aren't! The ultimate book on vampire etiquette!
Q&A:
1. How has writing (either just the act of writing or writing this book or both) impacted your self-confidence?
This was the first children's book I wrote that I could trace directly to an idea I got from my daughter, as it came from a tickling game I used to play with her.  The fact that a fun-loving activity could result in a published book confirmed what I'd always felt about writing springing from humor as well as hard work, and gave me confidence to trust in the way that I create.
2.  What are three words that describe your creative book-writing process?
Playfulness, discipline, and perseverance

3. What good has your book created in the world?
A Vampire is Coming To Dinner has entertained and tickled kids, parents and teachers, and encouraged them to enjoying reading together.
• • •
Have you ever considered writing for children? What topics would you cover or what story would your imagined children's book tell?
But you will have to say more than just the three words to get to 50-200 words.
Answer in the comments in 50-200 words (no less and no more to qualify to win one of today's books). Please read the complete rules at least once!
Thanks for participating in the Writer Mama Every-Day-In-May Book Giveaway! Thanks for sharing about the giveaway on Facebook!
Like this post? Subscribe to my Feed!