Fellow Willamette Writers Member, Jon Dragt introduced me to Melissa Hart and I've hosted her at The Northwest Author Series. She's an inspiring presenter and just a delightful person. Enjoy!

Melissa Hart is the author of two memoirs: Gringa: A Contradictory Girlhood (Seal Press, 2009) and The Assault of Laughter (Windstorm, 2005).  She's a contributing editor at The Writer Magazine, and her articles and essays have appeared in The Washington Post, The Chronicle of Higher Education, The Advocate, The Los Angeles Times, Fourth Genre, Other Voices, Northwest Review, High Country News, Orion, The Chicago Tribune, The Oregonian, Hemispheres, Horizon Air Magazine, Woman's Day, Cat Fancy, and numerous other publications. She lives in Eugene, Oregon with her husband, photographer Jonathan B. Smith, and their young daughter, plus two dogs, and five cats. Learn more about Melissa at http://melissahart.com/.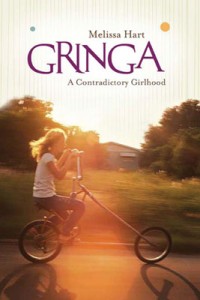 Book Description:
Torn between the high socioeconomic status of her father and the bohemian lifestyle of her mother, Melissa Hart tells a compelling story of contradiction in this coming-of-age memoir. Set in 1970s Southern California, Gringa is the story of a young girl conflicted by two extremes. On the one hand there's life with her mother, who leaves her father to begin a lesbian relationship, taking Hart and her two siblings along. Hart tells of her mom's new life in a Hispanic neighborhood of Oxnard, California, and how these new surroundings begin to positively shape Hart herself. At the opposite extreme is her father's white-bread well-to-do security, which is predictable and stable and boring. Hart is made all the more fraught with frustration when a judge rules that being raised by two women is "unnatural" and grants her father primary custody.
Q&A:
1. How has writing (either just the act of writing or writing this book or both) impacted your self-confidence?
I've been writing since nine years old, and it's an integral part of who I am.  Writing has insisted that I become an extrovert, a teacher, an owl trainer, a filmmaker—all of which feed my self-confidence.
2. What are three words that describe your creative book-writing process?
Three words that describe my creative book-writing process are faith, focus, and revision.
3. What good has your book created in the world?
Gringa: A Contradictory Girlhood, has made readers laugh and cry. It's inspired them to belt out songs from old MGM musicals. It's challenged their ideas about parenting and disabilities, and it's inspired them to make Frito Boats.
• • •
Thanks for participating, Melissa!
Personal writing, like essay or memoir—I am curious how many of you have had any personal writing published.
Have you ever submitted an essay for publication? Have you every had an essay published? How is this experience different from writing and submitting other types of writing for you?
Answer in the comments in 50-200 words (no less and no more to qualify to win one of today's books). Please read the complete rules at least once!
Melissa is allowed to answer too, but not until tomorrow, after her winner is drawn, because she can't win her own books.
Thanks for participating in the Writer Mama Every-Day-In-May Book Giveaway! Please spread the word.
Like this post? Subscribe to my Feed!