You may have heard about Heidi Smith Leudtke's internationally acclaimed  e-book, Detachment Parenting, in a recent write-up in The London Times. Stay tuned for more media interest in this topic as folks continue to learn more about Detachment Parenting and embrace Heidi's advice for calm, positive parenting. Please help me welcome Heidi!
Introducing Heidi Smith Leudtke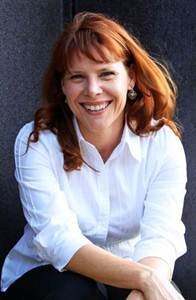 Heidi Smith Luedtke is a personality psychologist and mom whose scholarly work focuses on stress and coping, well-being and personality. In 2005, she left a busy career in academia to marry her best friend and chart her own creative career course. Heidi approaches writing in the same way she approached teaching: She loves to show readers how they can use smart information to live happier, healthier lives. Since 2009, Heidi's articles have appeared in more than 90 magazines, including Parents, Pregnancy & Newborn, Massage and Bodywork and Costco Connection. Heidi shares her military-wife experience and psychology-related expertise regularly in Military Spouse magazine.
Heidi's e-book, Detachment Parenting: 33 Ways to Keep Your Cool When Kids Melt Down, teaches frazzled parents how to dial down their own emotional responses so they can stay focused on guiding kids' coping efforts in productive ways. Heidi currently lives near Washington, D.C., where she is learning Swedish in preparation for her family's upcoming overseas move. When she isn't studying or writing, Heidi plays soccer in the backyard with her two young kids and two scrappy dogs.  You can learn more or read Heidi's work at HeidiLuedkte.com.
Learn about Detachment Parenting, 33 Ways To Keep Your Cool When Kids Melt Down
We've all been there. Emotions are running high, the kids are out of control, and the adrenalin rush of a full-scale mommy meltdown threatens to take the situation from bad to worse. In Detachment Parenting, you'll access the same techniques teachers, coaches and counselors use to dial down their own emotional responses and stay focused on guiding kids' growth. This book is packed with 33 practical strategies you can use right away. You'll learn to keep calm and get perspective so you can coach kids through tough times. Detachment Parenting allows you to take a responsive stance in heated situations and create a positive emotional climate each day. Armed with these stay-cool strategies, you will be ready for whatever kid chaos comes next.
I asked Heidi three questions about our giveaway's theme topic, self-expression:
1. Is self-expression an important part of your life today, why or why not?
Self-expression is a vital part of my life today and everyday. Without self-expression I wouldn't be able to question, to learn and to grow. I learn by thinking out loud. I grow by doing, even when I am not sure I know what I'm doing. Or maybe especially when I don't know what I am doing. To me, self-expression encompasses all the things I am striving to do, to learn and to become in life.
2. What does self-expression mean to you and how do you do it in the world?
Self-expression means letting the world see me learn and grow, even when it's not comfortable. It means allowing myself to say (or do) what I feel, even when it won't be proper or popular. Self-expression means trusting my own voice and listening to what is says. It is simultaneously unsettling and affirming, and I do it out loud and on paper everyday.
I am currently in full-time Swedish language training and I find myself constantly playing with words in Swedish — even at 3 a.m. During my 3-year-old's bedtime routine, I tell improvised bedtimes stories using my new (and not-so-extensive) Swedish vocabulary. Although she doesn't know the language, she is obviously smitten with these tales and with my not-so-fluent self-expression. I'm sure it helps that I use her as the protagonist every night! I hope my halting stories teach her that creative self-expression is charming and fun, even when you don't have all the right words or years of experience. The process of self-expression is at least as important as the product.
I also love to mix it up in the kitchen. Cooking is my no-stress creative outlet. I am less perfectionistic about my cooking than I am about my writing. And I'm fortunate that my kids will eat soupy strawberry pie out of a bowl when it doesn't set up like it should, without a word of complaint.
3. How does your self-expression impact the world—your family, your friends, your readers, and everyone else?
In my writing, I aim to educate, inspire and entertain. I hope my readers see their own lives with greater clarity and treat themselves with greater compassion because they've learned from my work. By expressing my imperfect, inquisitive self, I give my family, friends, and readers permission to express themselves, too. I give them permission to learn and to grow. To hear their own voices and to trust them a little more every day. To me, that's the ultimate gift in life.
And Now, Your Turn…
You remember how this works right?
Please read the complete rules at least once!
I ask you a question.
You answer in the comments for your chance to win a book each day.
Please just respond once, even if you make a typo.

Answer in the comments in 50-200 words (no less and no more to qualify to win one of today's books).
Count your blessings. What are you most grateful for?

Ready, set, comment! I will hold the drawing tomorrow and post the results here in my blog.
Thanks for participating in the Writer Mama Every-Day-In-May Book Giveaway!
And thanks for spreading the word. We will be giving away great books by wonderful women authors all month.
View the complete list of authors and books.
View the giveaway Pinterest board.
{ 0 comments }